Services
In addition to our traveling exhibits, NRG! Exhibits offers these services to museums and science centers:
Exhibit/Experience design and development
Exhibit production/fabrication/installation management
Program design and development
Traveling exhibit management
Our team has collectively over 100 years of museum, education, and design experience. Members of our team have worked for, founded, or directed a number of organizations, including:
The National Toy Hall of Fame
The Museum of Flight
The Illinois State Museum
The Field Museum
Ann Arbor Hands-On Museum
The Newark Museum
South Florida Science Museum
Museum of Science & History
Fresno Metropolitan Museum
Plus numerous schools, colleges, and universities
Traveling Exhibit Management
Enjoy the benefits of a traveling exhibition program—without the headaches.
Expand the reach of your museum or center's mission.
Position your organization as an industry leader.
Increase your museum or center's visibility and name awareness.
Generate additional revenue for the organization.
We help you accomplish this without adding staff or additional development costs.
NRG! Exhibits' development/management program eliminates headaches by:
Managing all rental and shipping logistics
Providing complete marketing services, including:

Direct mail and e-mail newsletters
Participation in all major industry expositions and trade shows
Web site development and hosting for exhibit content and promotion
Personal contact with prospective clients
Utilize Existing or Future Exhibits
Developing a permanent or temporary exhibit is costly. By turning these existing exhibits into traveling exhibits, you can recoup those costs. Utilizing NRG! Exhibits' management program, your organization receives the majority of the rental fees without additional investment of funds, staff time, or other resources. NRG! Exhibits handles it all.
Collaborate with NRG! Exhibits to Produce New Exhibits

In this scenario, your museum provides artifacts and/or exhibit props, content review, and branding approval. In exchange, your organization receives a portion of the revenue from each exhibit rental. Your participation (and earnings portion) can increase by partial funding of the exhibit or by partial content development. NRG! Exhibits can manage the entire production, from design through fabrication.

Flexibility Ensures a Good Fit

Whether we are touring exhibits that your organization has already built, are co-developing an exhibit with you, or are creating one for you, our services are designed to meet your needs.

Minimal Risk

Because your museum or center is required to invest few additional financial resources into the traveling exhibits program, the risk to you is negligible. If an exhibit fails to rent during any given period, there is no cost to you, our client. NRG! Exhibits bears all marketing and management expenses and, in some cases, the development costs, thereby assuming most of the risk.

Large or Small Exhibits

NRG! Exhibits handles exhibits of all sizes, from 50 running feet to 5,000 square feet and beyond. We are prepared to manage art exhibits, highly interactive exhibits, and anything in between.

We Have Experience

The NRG! Exhibits team has collectively over a century of museum experience. Our roles have included directorship, curatorial, research and development, exhibit design, fabrication, marketing, and traveling exhibit management. We bring these skills to each of our projects so you know that your exhibit will be in good hands.

Give us a call or send us an e-mail today and we will begin to get your traveling exhibit program on the road to success.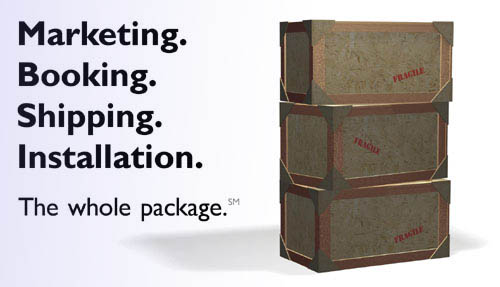 © 2010 NRG! Exhibits, LLC. All rights reserved